Where To Reupholster Your Car Interior
Oh, the joys of leather seats… practically no-one can resist sinking back into a plush leather interior, which makes the morning commute or spontaneous weekend drives that much more enjoyable. Like any good thing, though, there's a limit to how much these fittings can take before they start to degenerate.
You may have considered reupholstering your car interior to prolong their lifespan and comfortability. There are several ways to go about this, but only one of them will give you the satisfaction and peace of mind that's worth the effort.
D.I.Y Dalliances
By bravely diving into the D.I.Y ethos, you have a vague chance of getting decent results. There's a lot involved in this process, however, that can make for an arduous task if you're going about it alone.
For starters, you'll have to unbolt the seat and cut a new upholstery piece based on its shape and dimensions. Leather can be quite thick, so without the proper cutting tools, you can easily do a botched job. Seat padding must also be replaced and stitched back together; these jobs require a steady hand, and plenty of patience to get right.
Remember that it's strenuous enough reupholstering one car seat, never mind an entire set. There's a certain pleasure in doing it yourself – that's why we love projects like this, after all – but for the average, untrained Joe, it can quickly be more trouble than anticipated.
One-Stop Shops
There is, of course, the option of going back to your car dealership for help. Unfortunately, many places charge a fortune to reupholster your interior, and since they don't specialise in upholstering, they may not have the right tools for the jobs and you'll end up with a shabby looking seat like this example: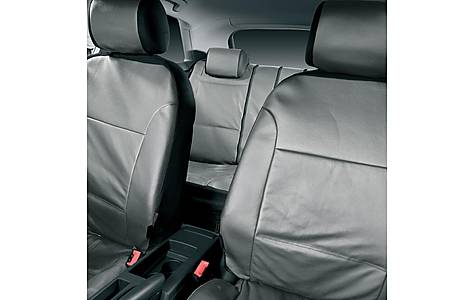 You might also be tempted to pop into an autocentre, such as Halfords. Whilst you'll probably find an affordable solution here, be warned: a one-size-fits-all approach leaves no room for quality assurance, or flexibility to bespoke requirements.
Think of these centres as the Costa Coffee of automotive upkeep, churning out the same cheap and cheerful fixes ad infinitum.
Specialist Support
Before you exhaust these options, why not treat The Seat Surgeons as your best bet for excellent leather upholstery? Our entire business is built around leather seating – we live and breathe it every day, and we've helped hundreds of drivers refit their interiors for many years ahead.
By visiting a dedicated upholsterer, you can be sure an expert pair of hands will fully refurbish one or more leather seats, with utmost care paid to the comfort and quality of the cover and its constituent design elements. Whether it's the imposing bulk of a classy Land Rover bespoke car seats model, or a high-end car that doesn't suffer a single tarnish lightly, there's nothing we can't fix, preparing your vehicle furnishings for a long life on the road.
Time to give your ride a makeover? Contact The Seat Surgeons today on 01904 492 833, or email sales@theseatsurgeons.co.uk to revive your leather upholstery.